2Bleu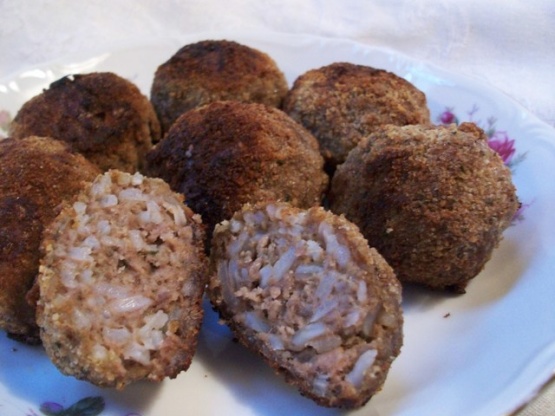 These Italian rice balls are a great favorite of children & adults alike. Italian cheese blends consists of Mozzarella, Provolone, Parmesan, Romano, Fontina, & Asiago. I have noticed that sometimes the last 2 cheeses are not included. I have adjusted the recipe according to 2Bleu's comments. Thanks for the input...

My husband and boys rolled their eyes when I told them what was for dinner, but quickly changed their minds!! I will be making this again, thank you for posting it!!
Mix the ground beef & rice together then stir in the cheese, parmesan, & spices.
Mix the egg in with the meat mixture to bind it together. With slightly moist fingers, shape the mixture into small balls.
Heat a small amount (about 1/4 inch) of oil in a frying pan. Roll the balls in the bread crumbs then fry until golden brown & crisp. Drain on paper towels & serve immediately.