Italian Pound Cake (Food Processor)
Debbwl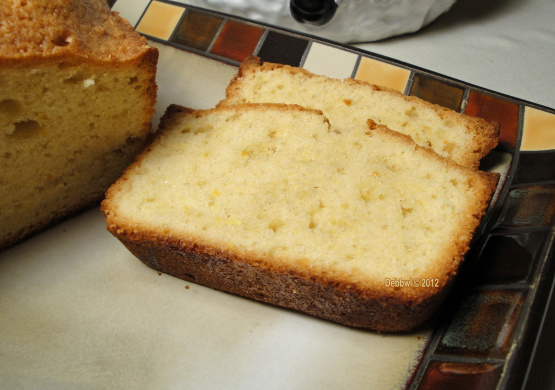 A pound cake that pairs well with coffee or tea and is a slightly tweaked version of a pound cake recipe that came with my Cuisinart. This pound cake is unique in that it calls for pine nuts, olive oil and corn meal.

I skipped the pine nuts as I don't have any on hand. Aside from I followed the recipe and got a great tasting cake. It was a bit holey but that might have been the use of the food processor. The one I have now doesn't have a dedicated pulse button so I can only keep hitting ON button and while that works it's not as good as my old Kitchen Aid food pro. Be that as it may the cake is yummy. We had slices topped with fresh strawberries for lunch today. At last, it feels like summer has arrived! Thanks for a lovely recipe Deb. :D
Preheat oven to 325°F Coat a 9x5 loaf pan with nonstick cooking spray.
Gind toasted pine nuts in food processer; add the flour, cormeal, baking powder and salt and process to sift, about 10 seconds. Remove to a bowl and set aside.
Process butter, sugar and zest till creamy, scraping the sides of processer as necessary.
In measuring cup combine the eggs, oil and vanilla extract. With processer running, gradually add the egg mixture untill incorporated.
Add the dry ingredients evenly to the food processed work bowl and pulse just until combined about 4 to 5 times (do not over process).
Pour batter into loaf pan. Bake in the center of the oven for 1 hour 15 minutes or until a tooth pick inserted in center comes out clean (orignal recipe called for 90 minutes, but mine is also done at 75 minutes).
Cool 5 minutes in pan, then remove and finsh cooling on rack.
Enjoy!