atm1970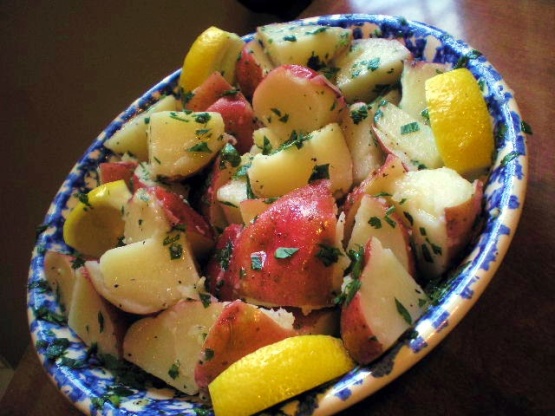 This potato salad was one of my Nonna's (grandmother) most-loved recipes. Our whole family (and it's big!) loves it and we always think of her when we make it. It is simple while still being full of flavour. The salad is best served warm or room temperature. You don't absolutely have to love parsley to like this dish, but it would help a little. :-) Please note: amounts are approximate - my grandmother never wrote anything down, so we go by taste. Feel free to adjust to your own preferences.

Top Review by Jezski
A keeper. However, I did find 4 cloves just a tad much; 3 does it for us. But all in all, a very tasty potato salad. I'll make it again. Thanks, Mel T.
Boil potatoes, keeping skins on, until tender.
Meanwhile, crush garlic into medium-sized serving bowl and add chopped parsley.
Add olive oil and mix well.
Let mixture sit while potatoes are cooking.
When potatoes are done and still HOT (or at least very warm- they absorb the flavour better that way), cut into bite-sized chunks and add to parsley-garlic mixture.
(If you prefer to peel your potatoes, feel free).
Stir well to coat potatoes.
If more oil is needed (sometimes it varies, depending on the potatoes), add enough to get desired amount.
Salt and pepper to taste.
This is best when it sits for at least an hour at room temperature before serving to let the flavours combine.