Italian Pot Roast for the Crock Pot
*Pixie*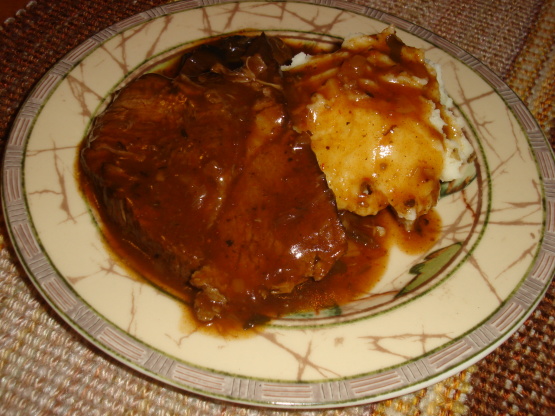 This is one of our favorite pot roast recipes! I serve it over egg noodles. I found this recipe in Southern Living February 2005 issue.

Perfect, EASY dish that my whole family devoured and raved over throughout the entire meal. Made exactly as written with the exception of using corn starch for the gravy instead of flour (it's a gluten thing). Served with mashed potatoes and a salad and loved every bite.
Place mushrooms and onion in the bottom of a 5 1/2 quart slow cooker.
Sprinkle roast evenly with pepper. Brown roast on all sides in hot oil in a large dutch oven over medium-high heat. Place roast on top of mushrooms and onions in slow cooker. Sprinkle onion soup mix evenly over roast. Pour beef broth and tomato sauce over roast. Cover and cook on high for 5-6 hours or until meat shreds easily with a fork.
Remove the roast from the slow cooker and cut into large chunks; keep warm.
Skim fat from juices in slow cooker; stir in dried Italian seasoning and tomato paste. Stir together cornstarch and 2 tablespoons water in a small bowl until smooth; add to juices in slow cooker, stirring until blended. Cover and cook on high 20 to 30 more minutes or until mixture is thickened. Add roast pieces back to slow cooker. Cover and cook until thoroughly heated.
Serve over hot cooked egg noodles.