Italian Polenta Casserole
Julesong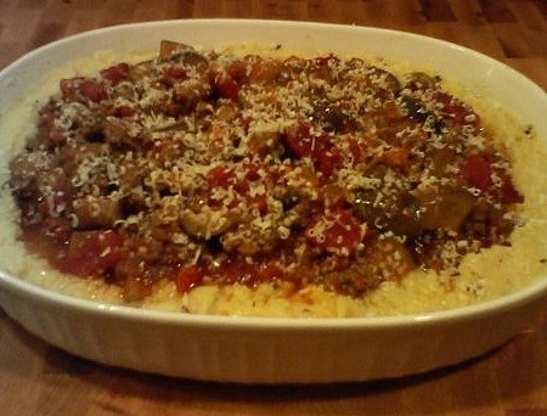 Based on a recipe from Good Housekeeping. This Italian casserole delivers comfort with creamy polenta and a hearty tomato ragu studded with spicy sausage and eggplant.

This recipe rated five stars with just a couple of adjustments to suit my taste. I added 4-5 TBS of tomato paste to the ragu, use 6 cloves of garlic, added some needed salt, and made the polenta with milk instead of water - a personal preference for the creamier texture. It is a great, filling, and fairly inexpensive dish. Thanks for sharing. I'd recommend a nice chianti with this dish.
In 5- to 6-quart Dutch oven, cook sausage and ground beef on medium-high 5 to 6 minutes or until browned, stirring and breaking up meat with side of spoon. With slotted spoon, transfer meat mixture to medium bowl.
To same Dutch oven, add onion; cook on medium 8 to 10 minutes or until tender. Stir in garlic; cook 30 seconds. Add tomatoes with their puree; heat to boiling on high, breaking up tomatoes with side of spoon. Reduce heat to medium-low and simmer, uncovered, 10 minutes. Add eggplant and meat; cover and cook 5 minutes on medium. Uncover and cook 10 minutes longer or until eggplant is tender, stirring occasionally.
Meanwhile, preheat oven to 400 degrees F. In microwave-safe 4-quart bowl, with wire whisk, combine water, broth, cornmeal, and salt. Microwave on High 15 to 20 minutes or until cornmeal mixture is very thick. After first 5 minutes of cooking, whisk vigorously until smooth (mixture will be lumpy at first); whisk 2 more times during remaining cooking time. Remove from microwave, whisk in Romano.
Spoon 2 cups hot polenta into each of two 1 1/2-quart shallow casseroles. Spread polenta over bottom and up sides of casseroles. Spoon filling over polenta. Spread remaining polenta around casserole edge to form a rim. Sprinkle with a couple tablespoons additional grated Romano, Parmesan, or Asiago.
Bake one casserole 30 minutes or until hot. Let stand 10 minutes for easier serving. (Freeze the other one for later.).
Makes 8 servings (in 2 casserole dishes).
Note: if you want to lower the fat content, use turkey Italian sausage. Make sure to use quality sausage - I've used my favorite, our freshly made Merguez, and good sausage really makes a difference.