V.A.718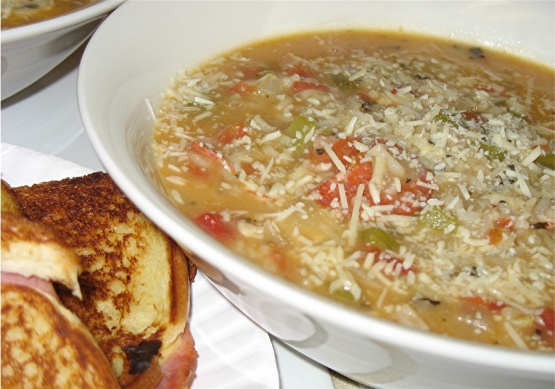 This delicious soup is quick and easy to fix. Just add bread for a hearty meal!

Now this is a tasty tasty treat! It is simple to make, and full of flavor. We used rotel for the diced tomatoes, and served it with grilled ham and cheese sandwiches. Very filling! I must say that I really enjoyed scraping the built up cheese off of the spoon, it was like a little added bonus! We will certainly make this soup again, it was really very good :)
Heat olive oil in a large saucepan.
Saute the onion and green pepper until softened.
Stir in the garlic and cook for a minute.
Add the oregano, basil, rice, tomatoes and broth, and bring to a boil.
Turn down heat and place cover on saucepan.
Simmer for 20 minutes or until rice is tender.
Stir in the pepperoni, and sprinkle with the cheese.
Continue cooking for another minute or two.
Serve, and add an extra sprinkling of Parmesan cheese, if desired.