Italian Peppers and Egg Sandwiches
Nimz1466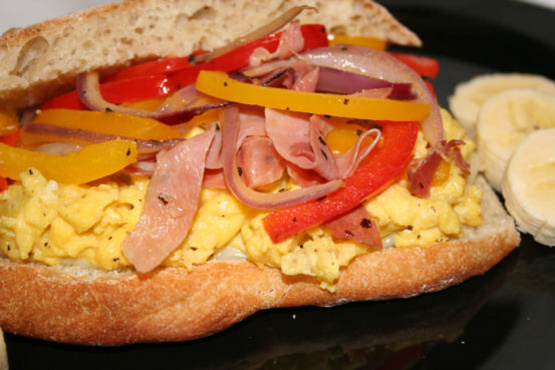 These sandwiches are so good. I made them for a romantic breakfast in bed situation with very nice results but they would be just as good for lunch or a light dinner. The eggs are tender and creamy, the peppers and onions are slightly sweet and match well with the saltiness of the meat. And who doesn't love ciabatta? Fresh fruit is a nice accompaniment.

called peppers and eggs. That's all is to have besides the bread.
Put bread pieces into warming oven until needed.
In a large skillet, heat oil over medium heat and sauté onions and peppers until tender (about 10 minutes).
Add prosciutto and cook 1 minute.
Remove from heat and stir in basil.
Keep warm.
In large bowl, combine mascarpone, eggs, salt and pepper until completely blended.
Melt butter in large skillet over medium heat.
When butter starts to foam, add egg mixture.
Push eggs gently with a rubber spatula in a figure-8 motion forming soft curds. Cook until just set but still creamy and moist, about 7 minutes.
Transfer eggs to bottoms of bread.
Top with cheese slices.
Spoon pepper mixture over cheese and top with remaining bread.
Serve immediately.