kda949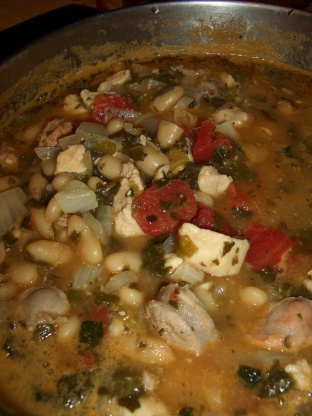 I found this in TOH Quick Cooking magazine. I haven't tried it yet but it looks like something my family and I would love. Plan on trying it soon.

I made this recipe exactly as written. This is a very good, satisfying soup. Its not fancy, but very substantial and perfect for a Sunday night family supper. What I like about this soup is that one can taste all the different ingredients....the flavors are very clear and distinct and not muddled. Oh, the leftover soup was even better, too.
In a large pot, cook sausage over medium heat until browned and no longer pink; drain.
Add onions and garlic; saute until tender.
Add chicken; saute and stir until no longer pink.
Add in the beans, broth, tomatoes, basil, and oregano; stir to mix.
Cook uncovered, for 10 minutes.
Add the spinach and heat just until wilted.
Serve with parmesan cheese sprinkled on top.