loof751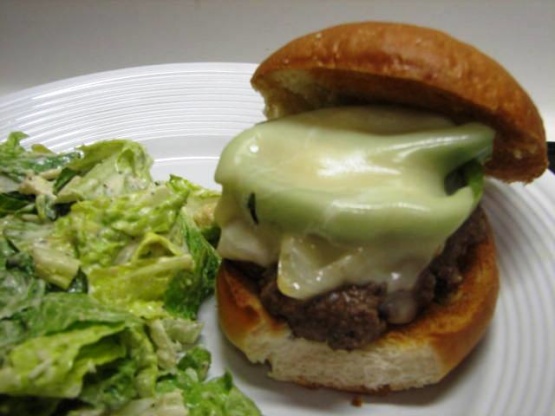 This is a different twist on the regular Patty Melt that I just had to share. I haven't tried it yet, but I will soon! I am guessing in the prep time.

What a great new way to do burgers! The seasoning is right on, and I loved the parmesan in the meat. I sauteed the veggies together (saved me a step), and tossed in a couple of cloves of garlic, sliced paper thin as well. The only other sub was fresh mashed garlic for the garlic salt. We really enjoyed these, Michelle! Can't wait to make'em again! :)
1

lb ground chuck
1⁄2 teaspoon garlic salt

2

tablespoons parmesan cheese

1

teaspoon italian seasoning

2

teaspoons oil

1

medium green pepper, sliced into 8 rings

8

slices raw onions

4

slices mozzarella cheese

4

hamburger buns, split and toasted with garlic butter
Mix meat, Parmesan cheese, and seasonings.
Shape into 4- 4inch patties.
Heat oil.
Cook pepper rings until crisp tender.
Remove.
Now do the same with the raw onion slices.
Remove.
In the same pan cook patties until done.
Top with veggies and then with cheese.
Cover pan until cheese is melted.
Serve on buns.