Bergy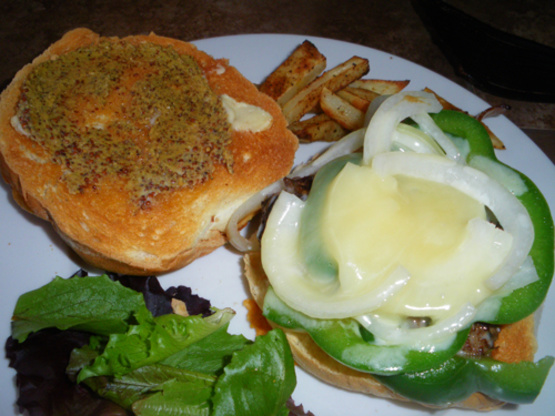 Delicious way to serve ground beef with an Italian flare. From Pillsbury's Dinner in No Time with changes.

Top Review by Bergy
I love burgers and this one is right up there - Loved it - Very moist and tasty I didn't cook the pepper rings or the onion just added them to the cooked burger before adding the cheese. I used skim milk Mozzarella and althought not as tasty as regulat mozza it was still delish. No oil used just a "No Oil" spray. Loved it - thanks Caroline
In bowl, combine ground beef/chicken, mayonnaise,, Parma and Italian seasoning.
Shape into 4- 4" patties.
Refrigerate for about 30 minutes to set.
Heat 1 tablespoons of olive oil in large heavy skillet over medium-high heat until hot.
Add bell pepper rings and onions; cook 3-4 minutes until crisp-tender.
Remove from skillet.
Add remaining 1 tablespoons olive oil and heat until sizzling.
Add patties; reduce heat to medium; cook 5 minutes each side for medium-rare (beef only), longer for well-done.
Top each patty with 1 slice cheese 2 bell pepper rings and 1/4 onions rings .
Cover; cook 1-2 minutes or until cheese is melted.
Serve on grilled or toasted bread or buns.
Note: Spread bread/buns with Dijon mustard for spicier taste.