Italian Parmesan Knots - Quick Version
Kathy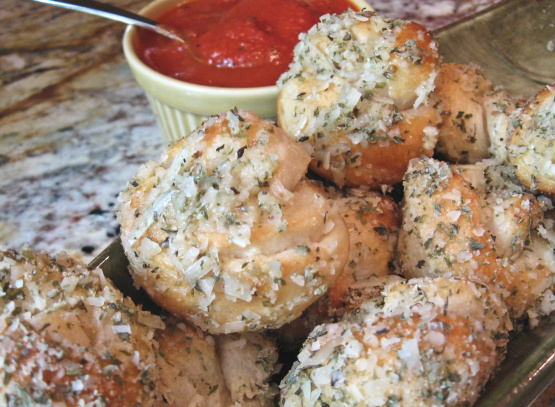 I found this recipe in Taste of Home Magazine, but made a change to suit to my taste and make familar with knots we get at our pizza/Italian restaurants.

This recipe makes really good quick garlic rolls. I used the larger GRANDS biscuits and they turned out fine. Next time I would probably omit the oregano and might just use the butter and garlic powder......you can't go wrong with butter! Made for Please Review My Recipe cooking tag game.
Cut each biscuit into thirds. Roll each piece into a 3-in. rope and tie into a knot; tuck ends under. Place 2 inches apart on a greased baking sheet. Bake at 400° for 8-10 minutes or until golden brown.
In a small bowl melt butter in microwave on med. for 45 seconds or until melted. In a larger bowl, combine the remaining ingredients.
Take hot baked knots and toss them first in melted butter, a couple at a time, and then toss them in the other bowl with parmesan mixture. Repeat with remaining knots.
Serve warm and enjoy!