hlkljgk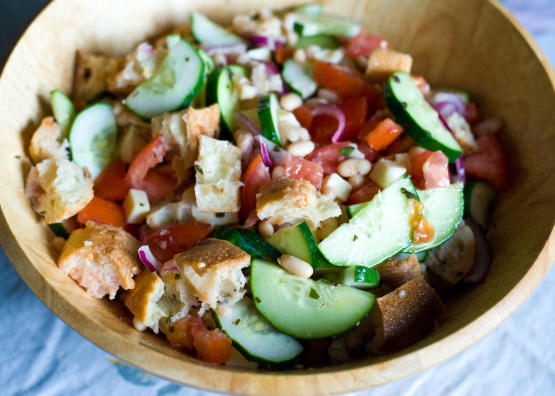 Big cubes of bread in this traditional Italian salad soak up the zesty dressing; white beans and provolone pump up the protein for a well-balanced vegetarian meal. From MarthaStewart.com

I thought this was o.k.. The toasted ciabatta bread I used was really good, but I thought the red wine vinegar overpowered the dish. It needs more flavor. I think I'll make this again and try to add more spices next time. I might try it with some balsamic vinegar.
In a large bowl, whisk together vinegar and oil; season with salt and pepper.
Add beans, bread, tomatoes, cucumber, onion, and cheese. Toss to combine. Cover and refrigerate at least 2 hours, and up to 8 hours. Just before serving, stir in basil.