Bergy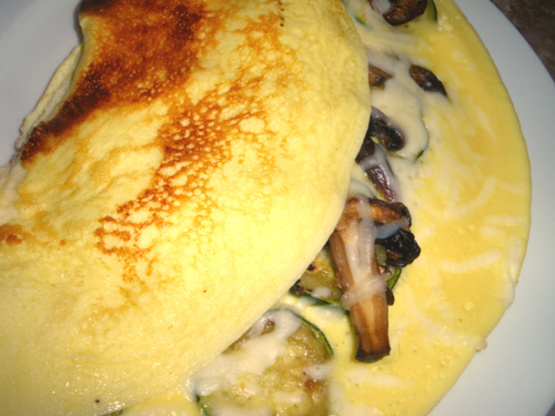 My family often requests this for supper.

Top Review by Bergy
Very lovely tasty omelet. I had some nice photos of it and I lost them all but will make this again and be sure to take photos. I didn't add any zucchini. I enjoy an omelete and this is one to be repeated again 7 May 2010 Made again - This is a treat of an omelet Once again I left out the zucchini but still enjoyed it Mmmm 27 May 2010 And made yet again - with zucchini this time - Mmmmmmm Can't go wrong with this recipe
In an 8-inch nonstick skillet, saute mushrooms and zucchini in 2 tablespoons butter until tender; remove and keep warm.
In the same skillet, melt remaining butter.
In a bowl, beat eggs, water, salt, and pepper.
Pour into the skillet; cook over medium heat.
As eggs set, lift edges, letting uncooked portion flow underneath.
When eggs are nearly set, spoon vegetable mixture over half of the omelet; sprinkle with cheese.
Fold omelet in half over filling.
Cover and cook for 1-2 minutes or until cheese is melted.
Meanwhile, for sauce, melt butter in a small saucepan over medium heat.
Add remaining ingredients.
Cook and stir for 5 minutes or until heated through.
Serve over omelet.