ImPat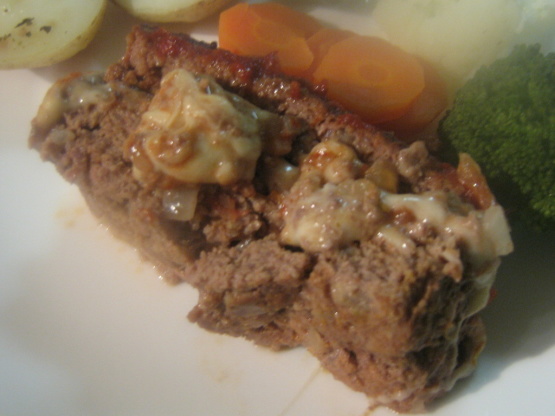 This meatloaf is so simple but oh so tasty. I usually use a flavoured pasta sauce to give extra flavour & dried basil sprinkled on top of the tomato is fine if fresh is not available.

Top Review by ImPat
Three if us devoured 3/4 of this delicious meatloaf. I used a Jensens Basil and Tomato Pasta Sauce with fresh sweet basil from the garden but forgot to add the parsley. I only used one tomato though a large one because that was all I had and used two layers of mozzarella (which was about 150grams from a 250 grams block of fresh mozzarella), the 1/4 cup of pasta sauce I mixed with the mince and used extra in the last 10 minutes. A great stuffed/layered meatloaf. Thank you **Mandy**, made for Edition 8 - Make My Recipe.
Combine mince, egg, breadcrumbs, sauce, parsley, onion and garlic. Mix well to combine.
Lightly press half the mixture into the base of a foil-lined 10x20cm loaf tin.
Top with tomatoes, cheese & basil.Lightly press remaining mince mixture over this and smooth top.
Bake at 200.C for about 1 hour or until cooked through.
About 10 mins before the end of coooking you can spread some extra sauce on top if you like.
Remove from tin & serve sliced with vegies or salad.