dojemi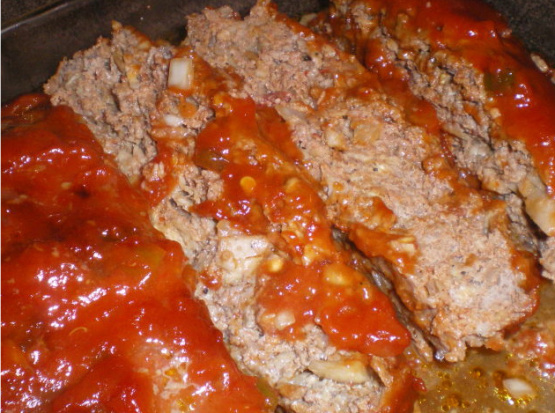 I have made this meatloaf for years, and my family and friends just love. One day while thumbing through my cookbooks I discovered a recipe with this delicious topping. Have made it like this ever since. Recently made with the addition on 1/2 large onion (or 1 medium) chopped.

I'm giving this 4 stars because I personally thought the glaze was too sweet. My husband loved it as is. It's a good meatloaf, not spicy, but not overpowering, either. Nice texture. Good for leftover sandwiches, too! :) Next time I'll put the glaze on half, and leave half plain. Also, you say you substitute bread crumbs for the sliced bread, but you don't specify how much you use. I used 1 cup of italian bread crumbs, and it was just the right amount. Thanks for sharing.
Mix all ingredients together as listed.
Put into glass Pyrex casserole dish.
Mix topping ingredients together and spread over top of meat, covering completely.
Bake@ 350 degrees for 1 hour.