Ms B.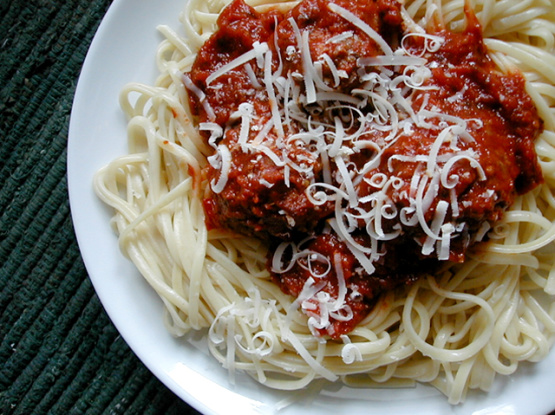 These meatballs are easy to make and very tasty. I love them on a meatball sandwich the day after!

Very tasty meatballs! I usually make my own recipe but every now and them I like to try something new. I followed the recipe as posted then threw the meatballs in a pot of sauce. The meatballs baked really well and I wouldn't do it any differently with this recipe. I also think these would make great little cocktail meatballs since they are so flavorful. Thanks for posting, we will definitely try this again!
Beat the egg in a small bowl.
Blend in the wine and tomato paste and set aside.
Place the ground beef and italian sausage in a large bowl and blend with your hands.
Add the bread crumbs and dry ingredients.
Slowly blend in the egg mixture with the hamburger mixture until it is mixed well.
If it is too dry, add more tomato paste or wine.
Shape into 2 to 3 inch meatballs.
Place meatballs on a baking sheet.
Bake in a preheated oven 400 degrees for 20 minutes, turn meatballs at 10 minutes.
Add them to your tomato sauce (see Simple Tomato Sauce Recipe) and cook approximately 30 minutes or longer for more flavor.