nitko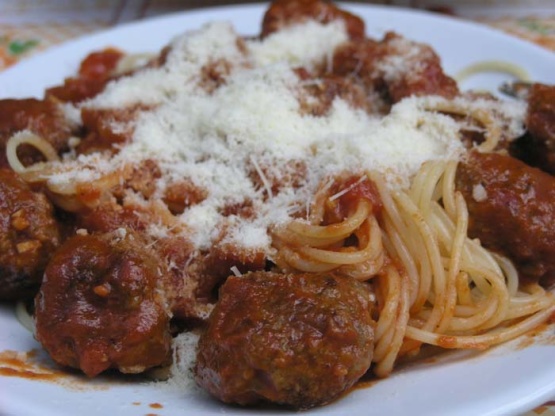 This is a wonderful recipe for Italian Meatballs that had been handed down from my Italian grandparents. Conagra Foods makes both Angela Mia and Hunts, so Angela Mia would also be alright to use if you do not see Hunts. Believe me when I say that it is the best, and as Lucille Ball would have said, "and it's tasty too". If you have questions email me: AlanLeonetti@q.com

Top Review by nitko
This is great meal. I had to make it twicw during my holidays. I made meat balls very small - it was great for the kids. They simply loved it. I have used simple tomato sauce seasoned with basil and mravinac (it is Croatian local herb, little bit stronger than oregano) because we do not have all sauces you mentioned available for purchase in Croatia. Nevertheless the meal is excellent and it become one of my favorites. Thanks to your grandma for this meal.
DIRECTIONS FOR MARINARA SAUCE:.
Empty Hunts chunky crushed tomatoes and Hunts tomato paste into the pot. Add the extra-virgin olive oil to the pot. Slice the cloves of garlic crosswise into either halves or thirds or pieces, and dump them into the pot. Dice the shallot, and dump that into the pot. Add the rest of the ingredients, and stir to mix well with a large long handled wooden spoon. Do not strain, as the pulp adds to make this a thick and wonderful sauce.
Cover and cook on medium heat, stirring every 10 minutes for about an hour or until it bubbles and is completely heated throughout. Reduce heat to simmer, and continue to simmer, stirring every 10 or 15 minutes to keep from burning or sticking to the bottom of the pot for 1 or 2 hours. Remove from heat and give it one last stir. NOTE: You may want to double the ingredients in the sauce, depending on how many people you are serving. Set the sauce aside.
DIRECTIONS FOR MEATBALLS:.
Mix all meatball ingredients together. Shape meatballs to desired size. To serve with spaghetti I usually make them 1 ½" in diameter, but for a meatball sub or as hors d'oeuvres, I make them smaller.
Heat olive oil in a large skillet. Place meatballs into skillet and sprinkle with salt, pepper and garlic powder. Continue turning the meatballs until they are done on all sides.
Reduce the heat and add the Marinara sauce to the skillet with the meatballs. Cover and simmer for 20 to 30 minutes.