Lainey39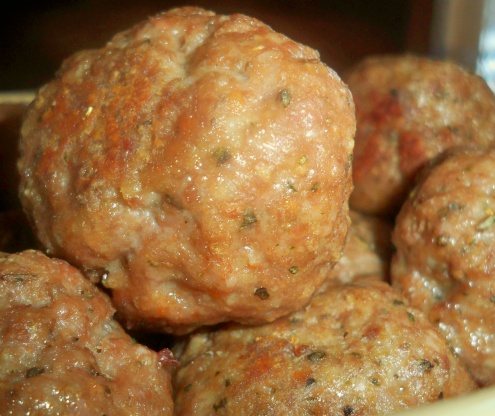 This recipe was passed to me from my late mother-in-law...the VERY first time I met her AND my soon to be husband's extended family. She told me if I was going to marry her son I better learn how to make this recipe real quick...good thing I love to cook huh! It's ALL about the food!

Really good!!!! I used 1 tbl of basil & 1 tbl Italian Seasoning. I may try a combo of ground beef and sweet Italian bulk sausage next time. Now that's 'Italian'! Baking for 25 min was just perfect.
Shape into meatballs a little bigger than a golf ball -- for some reason, Italian meatballs are always huge but they taste so great!
Brown in oil or bake in a 350° oven until browned then add to a basil - tomato sauce (your own recipe) or mine when I post it.
For a few good variations add: Italian sausage, ribs (mmm).
This is not for the calorie-counting/cholesterol-watching crowd!