Italian Marinated Mushrooms
hoopyeah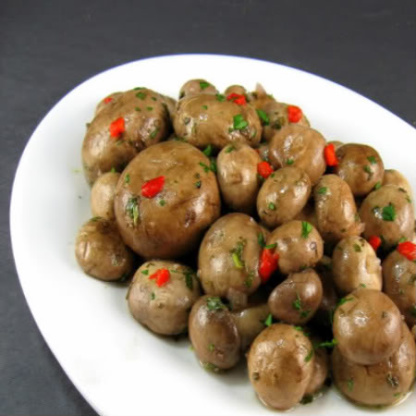 Easy and tasty recipe. This is how my Grandmother made her marinated mushrooms. When my mom makes this she usually puts in fresh, big pieces of hot italian pepper and loads of fresh garlic.
I'm so glad I found this recipe. Tastes close to the one sold at the deli. Need to adjust boiling time. 1lb filled only about half of a quart sized mason jar. The mushrooms shrink considerably. It was also a bit bland. I did squeeze some water out of the mushrooms with a small mesh spoon, not sure what that did, but might try adding back some of the vinegar water because it just wasn't tart enough for me. 4 cloves of garlic was too much for me. I minced them, but the directions doesn't specify what to do with the garlic. Double the recipe if you like this stuff and maybe a higher vinegar to water ratio for more zing, a bit more salt too.
Boil vinegar and water.
Wash, clean mushrooms. If small, leave whole. If large, cut and quarter, slice them so they are not too big.
Cook for 5 minutes.
Drain liquid. I like to squeeze out some of the liquid out of mushrooms. Place in quart size glass jar, add garlic, spices and drizzle of oil. Shake it up and refrigerate. Can stay up to two weeks if they last that long.