Italian Marinated Chicken Breasts
Stacky5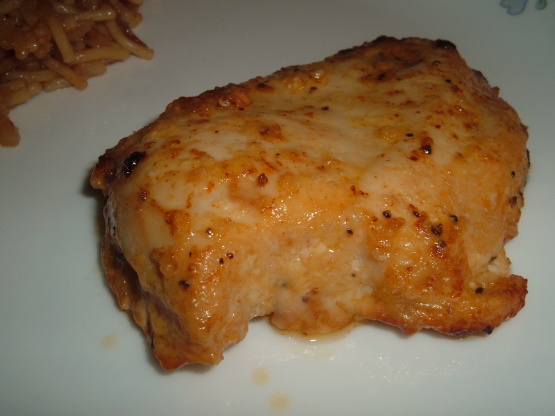 You can't get any easier than this recipe. I clipped it from a Kraft coupon, tweaked it just a little bit, and have been making this for years. My kids just love it, and it has saved me on many-a-workday when I didn't feel like cooking but had to! I usually serve this with buttered pasta or chicken-flavored rice and a green veggie on the side. NOTE: Prep time includes marinating time.
Extremely easy and tasteful!
2

cups Italian salad dressing (I use Kraft House Italian)

1

teaspoon oregano

2

tablespoons grated parmesan cheese
salt & pepper
In a glass 9 x 11 baking dish, place cleaned and trimmed chicken breasts, and season with salt and pepper, if desired.
Pour Italian salad dressing over to coat and let marinate in the fridge for 1 hour.
Preheat oven to 350 degrees.
After the hour of marinating, turn chicken breasts over and sprinkle evenly with oregano and grated parmesan cheese.
Bake in a 350 degree oven for 1 hour (or until juices run clear), checking after 45 minutes to make sure they do not get over-cooked.