Italian Macaroni and Cheese
Stacky5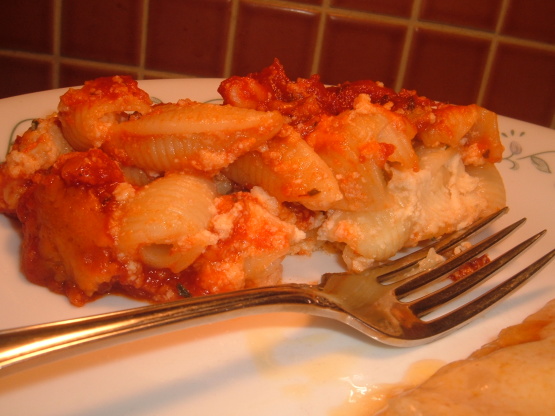 Another super-easy one that kids LOVE! They think it's cool to eat red and white mac and cheese. If you don't want to eat a raw egg simply add a little more milk.

This was DELICIOUS! We really enjoyed this different style mac & cheese. I used medium shells, and my kids loved the ricotta cheese in this. I served it just a little differently, because I had company. After assembling the mac & cheese, I poured it all in a 2 qt. casserole dish and spread a whole jar (16 oz.) of heated up Prego spaghetti sauce over the top. Then I spooned out servings like a casserole. Very easy and a definite Keeper in my house! My teenager loved the fact that it was meatless and raved and raved about the flavor. Thanks, firefly68!
Cook pasta in salted water.
In a bowl big enough to hold everything, mix cheese with egg, salt, pepper, and enough milk to make it gloppy. Add well-drained cooked pasta and mix gently with a lifting motion to avoid mushiness.
Serve with sauce poured over and a sprinkling of freshly grated parmesan, asiago, or pecorino cheese if desired. It doesn't get much easier than this!