GaylaJ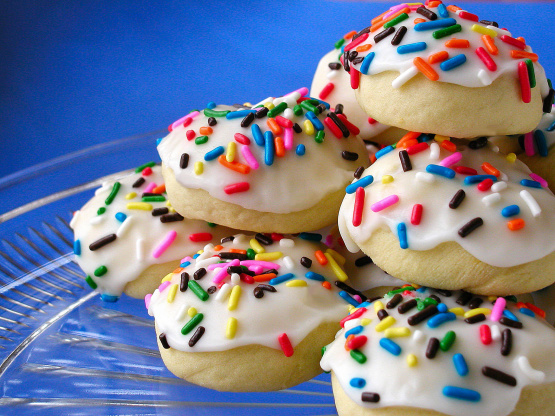 Yummy little Italian cookies that you can serve at holiday gatherings. Be creative! You can shape them however you like!

Top Review by GaylaJ
These cookies were very good, but I would probably make a few changes when I make them again. I think the flour and milk should be added alternately--I felt I was overbeating, as it took quite a bit of mixing to incorporate the milk into the stiff dough after all the flour was added. Although the butter will inhibit gluten development and help keep the cookies tender, I suppose it is just stuck in my head that cookie dough should not be beaten after the flour is mixed in to avoid developing the gluten. I found it difficult to roll the dough into 24-inch ropes and keep it an even thickness, so I divided the dough again so I only had to deal with 12 inches at a time. (You'll probably want to flour your board before trying to work with the dough.) I also had a problem twisting and making loops out of the 3-inch segments (at least the way I interpreted the directions), so I basically ended up with small circles. Unless I was making larger cookies, next time I would skip the labor-intensive roping and shaping and just shape them into slightly-flattened balls. With cookies of this size, the shape seems to get lost anyway by the time they are baked and decorated. I was trying to stay true to the recipe since I hoped to submit a representative photo, but in the future will take you up on your suggestion to shape them however I like (which for me will be the easy way). :) After tasting the baked cookies prior to icing them, even though I added extra lemon zest, the lemon flavor just didn't seem to come through so I used lemon juice rather than orange to thin the icing and just dipped the tops of the cookies in it instead of brushing it on. Next time, I think I would substitute a bit of lemon extract for some of the vanilla in the dough.I hope I don't sound negative, because we did enjoy these cookies--thanks for posting the recipe!
In a small bowl, sift flour and baking powder together.
In mixing bowl, beat eggs with sugar until light and lemon colored.
Add the softened butter and lemon zest.
Slowly beat in the flour and baking powder.
Gradually add milk and vanilla.
Dough should be soft.
Divide dough into 6 sections.
Roll out each section into a rope 1/2-inch wide.
Cut into 3-inch pieces and twist each piece to form a loop.
Place on a greased baking sheet or a parchment lined baking sheet.
Bake in a 350°F oven for 10-12 minutes or until light brown.
Remove from oven and cool.
Combine the powdered sugar and enough orange juice to form a thin icing.
Brush on top of cookies and sprinkle with colored candies.
Makes about 4 dozen cookies, depending on size and shape of cookie.