Italian Lemon Cauliflower
PaulaG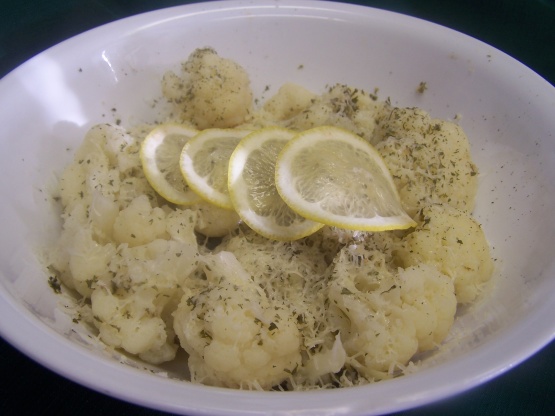 Cauliflower with a lemon-garlic-butter sauce topped with Italian cheese and parsley. I like to sub Fontina cheese.

Top Review by JMC44
Excellent, and easy to make. I took several shortcuts - I bypassed the seasonings in the steaming water, and steamed for 10 minutes - (I can't imagine cooking cauliflower longer, I don't like it mushy). I used Olivio rather than butter - a good olive oil would work nicely, too. I used powdered garlic rather than fresh. I also omitted the asiago and substituted a scant 2 tablespoons of freshly grated & fluffy parmesan. It was excellent. My rabidly meat & dairy-eating fiance loved it, - I think next time I'll make it vegan, maybe adding some ground pine-nuts and nutritional yeast to stand in for the cheese, and I'll bet he loves it just as much. I'm trying to help him prevent another heart attack, so I try to do vegan or lower-fat substitutes on everything, while he tries to get me to put as much meat and dairy into everything as possible, even vegetables. It's great to find a recipe that he's happy with, and with tiny modifications can be vegan. (Does it ever annoy you when someone reviews a recipe when they made so many changes you can't really say they even TRIED they original recipe???? Yeah, me too. Oh, well, this recipe is so good you can mess with it, and it's still really good) Light, fresh, delicious. And enough "chew" to delight the carnivores who usually sulk when they don't have bacon in thier vegetables.
In a large sauce pan, add 1 tbls parsley, lemon peel and 1 inch of water.
Place cauliflower in a steamer basket and put basket in saucepan.
Bring water to a boil, cover, reduce heat to medium and steam 15 minutes or until cauliflower is crisp tender.
With a slotted spoon, remove to a serving bowl, keep warm.
Reserve 1/2 cup of cooking liquid.
Melt butter in a small saucepan, add garlic and cook over low heat 3 minutes.
Increase heat to medium, add lemon juice and cooking liquid and stir to combine.
Pour over cauliflower, top with cheese and sprinkle with parsley.