Italian Lamb Shanks (Zwt II)
lazyme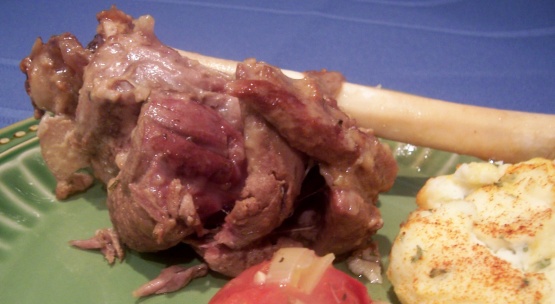 Betty Crocker - 1 of life's little historical cooking pleasures we seem to have left behind now that the internet is but a keystroke away. I laid down to take a nap w/a 20 yr-old BC paperback in hand & went sound asleep. I awoke still holding the book & the pgs were turned to this recipe. Seemed like a ZWT II sign to me & I confess to updating a bit to better reflect modern cooking methods. Not a modern recipe for lamb, but I was having a nostalgic moment (Time to marinate is not included).

Top Review by lazyme
Delicious! This is very simple and very good. I did have a problem keeping the coating on the shanks while browning (in olive oil) - it kept falling off. You never mentioned any sauce in the recipe, so I'm not sure if this was supposed to happen or not, but when they were finished, my braising liquid was quite thick so I tasted it and it was wonderful. We ended up pouring some of this over the shanks which were great on their own, but this just sent them over the top. The marinade and the parmesan mixture really had a lot of flavor. I didn't measure the water that I added for simmering, but I'm guessing that it was around 2 1/2 cups (for 2 shanks in a Dutch oven). My picture isn't that good, but I hope it does show how tender the meat was - it was literally falling off of the bone. And lastly, our dog also rated this at 5-stars - he's been loving the bones! Thanks twissis for a real winner.
Trim lamb shanks of any excess fat. Place shanks in a sturdy plastic bag lrg enough to hold all 4 shanks & pour the Italian salad dressing over them. Refrigerate at least 5 hrs, occ rearranging the meat & marinade to get complete & equal coverage.
Remove lamb & reserve the marinade.
Mix 1/2 cup cheese, flour, parsley flakes, salt & onion salt. Coat lamb w/the cheese mixture & reserve any that remains.
Heat shortening in 12-inch skillet or dutch oven til melted. Cook lamb in hot shortening (turning occ) till browned on all sides. Drain all hot shortening from skillet (See Note).
Sprinkle any remaining cheese mixture over the lamb. Add reserved marinade to the pan & enough water for a slow simmer.
Bring the liquid to a boil, cover pan & reduce heat to simmer.
Cook till tender (about 2 1/2 hrs), turning occ & adding water to pan as needed. Serve w/additional grated Parmesan cheese on the side.
NOTE: While the recipe calls for the use of shortening, we all know it's rarely used now. Feel free to sub your oil of choice.