Rita1652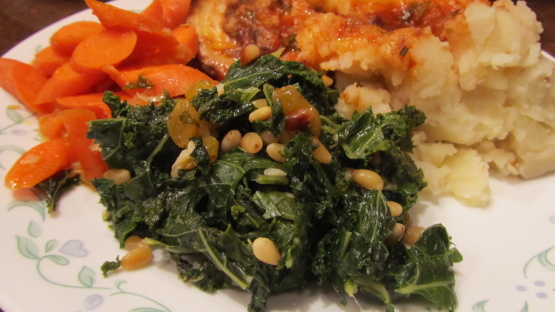 Toasted almonds and raisins give the kale great flavor with out adding a lot of fat. Cook time is only 8-10 minutes for some reason the system is reading it as 20???

This is a great recipe. I used dried cherries instead of raisins and slivered almonds. I loved the taste but next time I will definitely use less salt. Thanks for sharing.
Heat 1 teaspoon oil in large nonstick skillet over medium heat. Stir in pine nuts or almonds and cook 1 to 2 minutes, shaking pan often, until lightly toasted. Put into a small bowl.
Heat remaining 1 teaspoon oil in same skillet. Add garlic and cook 1 to 2 minutes, stirring often, until just starting to color. Add 1/3 cup water, the kale, raisins and salt.
Cover and cook about 5 to 6 minutes stirring once, until greens are tender and water is nearly evaporated. Stir in almonds and serve immediately.