VickyJ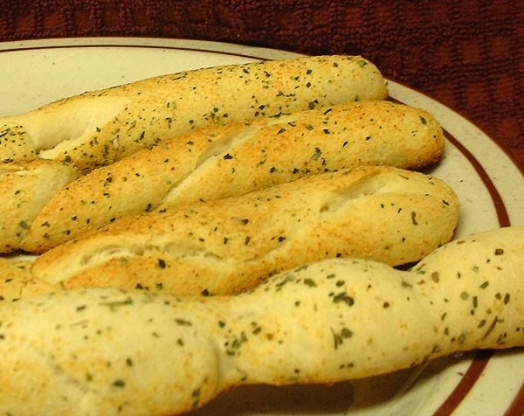 We love bread at our house, and I love baking, but I the time it takes, These breadsticks are yummy, and quick and easy to make. Serve them with soups, salads, or spaghetti.

Top Review by VickyJ
Hello Kitty! I made these for an appy tonight before pizza. They were so good and easy! my sweetie dunked his in warm pizza sauce, annd I dunked mine in ranch dressing. The only thing I did different was use regular table salt as I didn't have kosher. The butter seemed to quickly get absorbed. They were wonderful! This went in my "Just For Starters" cookbook! :)
Combine first 3 ingredients.
Cut dough into 24 pieces. Roll each piece into a 12-inch rope. Sprinkle evenly with Parmesan mixture.
Place ropes, 1-inch apart, on lightly greased baking sheets. COver with plastic wrap and let rise at room temp for 20 minutes.
Bake at 350°F for 15 minutes or until golden. Brush with melted butter, and sprinkle with kosher salt. Cool on wire rack 10 minutes.