Italian Gigi Sauce With Chicken and Pasta
teresas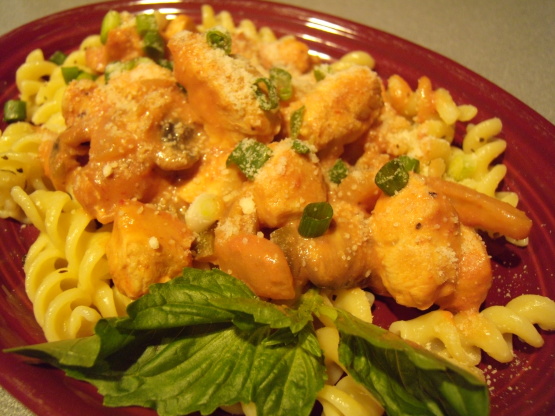 This is a wonderful, light sauce served over your choice of pasta. Not your traditional tomato sauce but a totally different flavor that your family will love. My husband (and myself quite frankly) were concerned about the tomato soup but you don't even know that is what was used. It doubles very well.

Excellent! This is so delicious and yet you don't taste the tomato soup. I cut the recipe in half and instead of the 1% milk I used fat free half and half. That's the only changes I made. This is a keeper and so easy to prepare. Thanks for posting. Made for Fall PAC 2009 :)
Fill a large stove-top pot with water, cover and bring to a boil.
Heat oil in a large nonstick fry pan or wok at med-high.
Cut chicken into bite-size pieces and add to pan as you cut.
Add garlic and basil to pan. Toss occasionally until meat is no longer pink.
While meat is browning….
Slice onion and add to pan as you chop.
Wash and slice mushrooms, adding to pan as you slice.
Place pasta in boiling water, stir and cook uncovered.
Set timer according to package directions (approx 11 minutes).
Add tomato soup to chicken mixture and stir.
Gradually add milk, then salsa.
Stir well to combine.
Wash and chop the green onion. Set aside.
Rinse the cooked pasta under hot water in a colander. Let drain. Return pasta to pot.
Toss with olive oil and basil.
Serve sauce over pasta and sprinkle green onion for garnish.
Our family also loves a little parmesan cheese on top.