Italian Garbanzo Bean Salad

I started with a Greek salad recipe that I found on another site, and I followed some of the review comments that suggested it was even better when made as an Italian salad. It's really refreshing and packed with flavor. It makes a lot, so it's a good salad to take to potluck gatherings.
1 (15 ounce) can garbanzo beans, drained
1 (15 ounce) can black olives, drained and sliced
14 ounces artichoke hearts, drained and quartered
5 ounces pepperoni, cubed (I use Pepperoni Minis)
6 ounces salami, cubed
2 cucumbers, halved lengthwise and sliced
1 cup grape tomatoes (I cut them in half)
1⁄2 red onion, chopped
2 garlic cloves, minced
6 ounces mozzarella cheese
1⁄4 cup Italian dressing
1⁄2 lemon, juice of
salt and pepper, to taste
1 teaspoon oregano
1 teaspoon italian seasoning
Directions
Combine all the ingredients in a large bowl.
Toss well and refrigerate 1-2 hours before serving.
Serve chilled.
Reviews
Most Helpful
Delicious! I have been a big fan of the Greek version of this salad that NorthwestGal posted, and don't know why I didn't try this version sooner. I essentially made this as posted, except I had sliced pepperoni and salami, which I diced. I cubed the mozzarella also. This makes a wonderful take-along lunch that is brightly flavored and filling. I will definitely be making this again! Made in honor of NorthwestGals' Week 8 Football Pool win.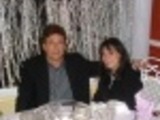 This was REALLY good! I left out the red onions because I'm not a fan of biting into a raw piece of onion, but otherwise I kept to the original. I'll definitely make this again!
So hard to not eat the whole thing! This is seriously some great bean salad....and so perfect especially when the combination of flavors meld together. I followed this exactly, except I used some Italian ham instead of pepperoni. (only had this) left it for at least 2 hours, and you will see how packed with flavor it is! Thanks, NWG! Made for ZWT 7