Annacia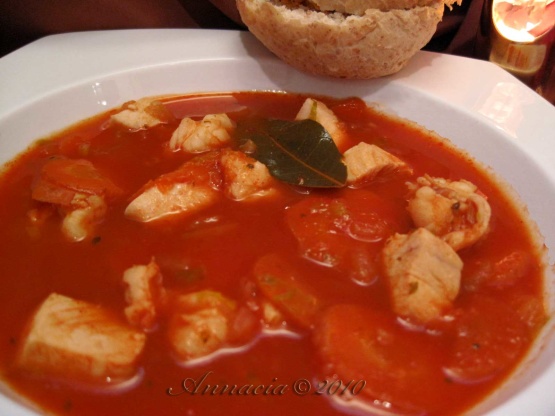 A good winter time soup. My DH loves soup anytime. Recipe comes from Better Homes & gardens. Great with French bread and wine.

First let me say that 4 servings became 2 tonight. The tomatoes really cooked away into the soup so I just picked out the skins at serving time. The only thing I would change would be to use fish stock (if available) in place of the chicken. This is a lovely light and low fat soup that I'm sure I'll make again. I didn't have sea bass so I used Mahi Mahi along with the shrimp.
Thaw the fish fillets and shrimp, if frozen.
Rinse fish and shrimp; pat dry with paper towels.
Cut the fish into 1-inch pieces; halve the shrimp lengthwise.
Chill.
In a large saucepan combine the 3 cups water, tomatoes, carrots, celery, wine or water, onion bouillon, marjoram, orange peel, garlic, bay leaves, and hot pepper sauce.
Bring to boiling; reduce heat.
Cover and simmer for 15 to 20 minutes or until vegetables are nearly tender.
Stir in tomato paste.
Add fish and shrimp to saucepan.
Bring mixture just to boiling; reduce heat.
Cover and simmer about 5 minutes more or until fish flakes easily when tested with a fork and shrimp turn pink.
Discard bay leaves.
To serve, ladle into soup bowls.
Place a slice of Italian bread on each serving.
Serve immediately.