Linajjac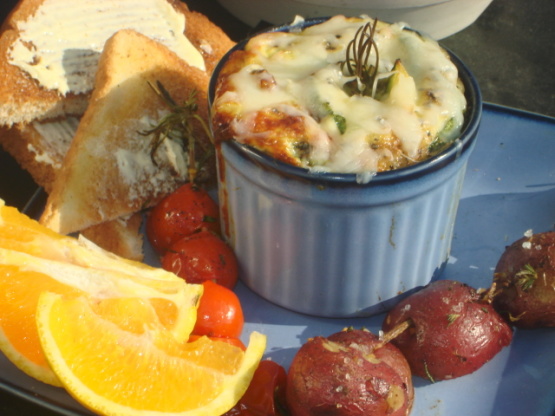 The human resources department at my workplace included this recipe in a health newsletter. It's perfect for summer when all of the ingredients are in season.

One cup of milk seemed like an awful lot. I cut it down to under a half and I think that was still alot. Took forever for the eggs to set. Next time, I'll use under 1/4 of milk and more or all the egg yolks. (Just a lesser amount of the full eggs.) The eggs were still 'wet' in the middle. I had to nuke it, to finish the cooking. My ramekins may have been bigger. I did figure they would take longer. I wasn't busy, so this really wasn't a huge deal. Besides that, these were really good and full of flavor. Tho, I did think it needed S&P. Wasn't a bad recipe by far. Just needed to be fixed. For me anyways. I liked the idea of the recipe. I will make it again. Just with my changes. Thanks for sharing! :)
Cook zucchini, onion, sweet pepper, and garlic in hot oil until onion is tender, cool slightly.
Combine egg whites, whole egg, milk and Italian seasoning in a medium mixing bowl; mix well. Stir in cooked vegetables.
Pour in four individual (about 4 1/2 inch diameter) ramekins. Bake at 350 degrees for 15-20 minutes or until set.
Sprinkle each serving with mozerella cheese. Let stand 5 minutes before serving.