PaulaG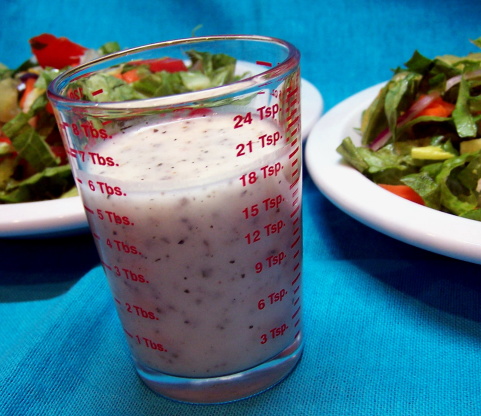 Throw away the bottled dressing and try this twist on Italian dressing. You'll be glad you did.
This dressing exceeded my expectations! (And I've tried several of Marie's recipes, so they were pretty high to begin with. :)) I made it on Thursday, following the recipe exactly, to serve the next night. As several have mentioned, it definitely tasted too salty even though I'd used the kosher type. But I stuck it in the fridge thinking I'd give the flavors time to meld a little before adjusting. By Friday, it had completely mellowed out and was perfectly seasoned -- no tweaking necessary! If you plan to use it within a few hours, I'd recommend that you cut the salt approximately in half. But if made a day in advance, we thought it was pretty close to perfect as is. I served it over a salad with several different kinds of greens, cherry tomatoes, cucumber, red onion and pepperoncini. Thanks for a fabulous start to our Italian dinner, Marie!
Combine all ingredients in a blender on high until combined, about 30 seconds.
Pour into small bowl and cover and refrigerate until ready to serve.
Stir before serving.