Italian Dipping Oil (for Bread)
Kim D.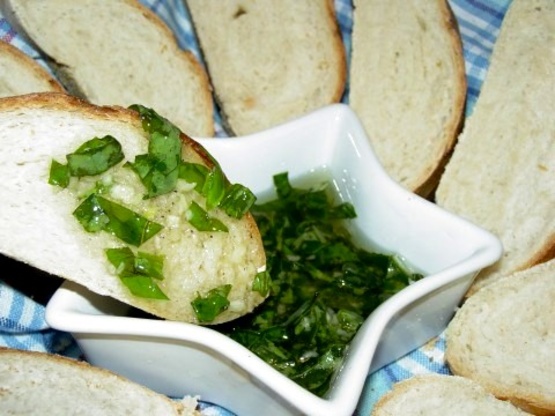 I love the dipping oil served at my two favorite Italian restaurants. Both restaurants vary slightly in ingredients. Here is my version that brings the best of both worlds. Serve with warm bread fresh out of the oven and enjoy!

Super easy and very tasty! I needed to make something quick with the ingredients I had at home. Pulled some basil leaves from my garden, grabbed the rest and picked up a loaf of italian bread. I used pre-crushed garlic from a jar because I did not have my garlic press, so it was quite garlicky. Will definitely use fresh garlic next time. Maybe even add a little grated parmagiano reggiano too :) Really yummy dipping some light, thin crackers in as well.
Pour olive oil into a shallow bowl.
Add basil, garlic and pepper.
Stir with a spoon to evenly distribute ingredients.
Serve with warm bread.
~NOTE~Use a good quality olive oil and fresh basil and garlic for best results.
More garlic can be added if desired.