jpmonte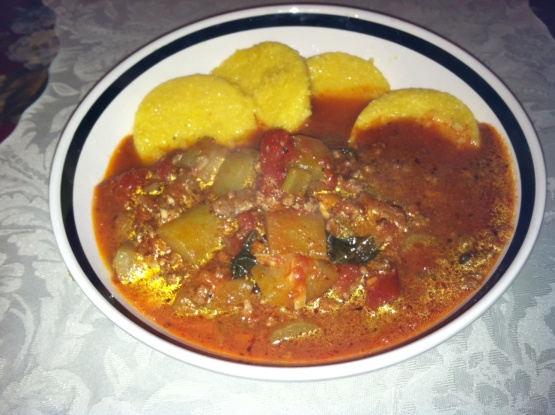 I grew up with this recipe. My grandmother would sometimes cook hers without the ground meat and would add a handful of fettucini to the pot.

Based on the 5-star rating and reviews, I am making this now...easy recipe (only one pot!) and I wish you could smell the aroma in my kitchen! The only change I made was that I didn't have any thyme in the house; so I used an Italian Seasoning blend of dried herbs, added a few fresh basil leaves and cut the garlic down to 2 large cloves. I will serve it over fried polenta slices and garnish it with grated Parmesan. Yum, Yum, Yum!!!
Brown the ground beef in a skillet, drain and set aside.
In a large dutch oven, add the olive oil and sauté the onion, celery, carrot, and garlic for about 4-5 minutes, or until the onions are translucent.
Add the ground beef to the pot along with the can of whole tomatoes, add the cucuzza, and the rest of the ingredients. Bring to a boil and simmer, uncovered for around 45 minutes or until the squash is cooked.