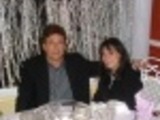 This is like antipasto in a bowl! What's also nice about this is that it's a quick toss in the salad bowl. The dressing ingredients are tossed with the salad, which makes it so much quicker!
Directions
In a large salad bowl, combine lettuce, pepperoni, salami, roasted peppers, onion and artichoke hearts. Toss everything together to combine.
Add vinegar, olive oil, salt, pepper, pepperoncini, Romano, provolone, and olives to the bowl. Toss thoroughly to combine the ingredients.
Serve chilled.
Reviews
Most Helpful
Loved this! I only made one serving of this because my grandson said that he didn't want any. He ended up eating half of my salad. lol. Thanks for sharing this great keeper, Jackie. Made for Culinary Quest 2014.

I agree with breezermom in that this salad needs just a tad more vinegar but, other than that, it's delicious, with lots of interesting things going on visually and in your mouth. Great recipe!

Very hearty salad! I added a bit more vinegar because I like my salad dressings a bit more tart. Loved the cheeses in this. Thanks for sharing! Made for Culinary Quest Summer 2014.