Italian Chicken Pasta Toss
Bobtail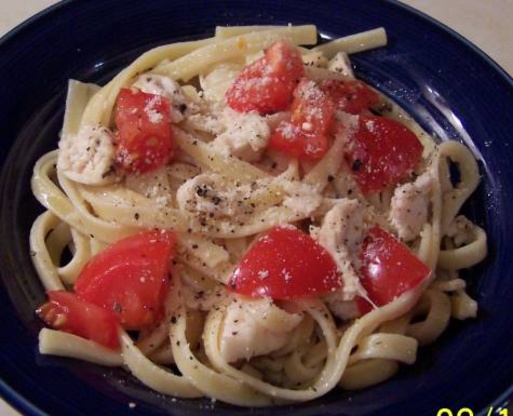 I love pasta and recipes that are easy to throw together and taste delicious. This recipe fits in that category. It makes such a nice meal for a quick weeknight dinner when things are hectic. I hope you enjoy it as much as we do!

Soo easy to throw together! Instead of using italian dressing, I use oil and garlic. I also use Rotini just cause with dishes like this I like smaller pasta. I just boil my chicken then toss this all in a saute pan and serve it and top it with cheese
In a large pot with boiling salted water cook pasta until al dente; Drain.
In a large saucepan heat the Italian dressing and olive oil together over medium heat.
Add drained spaghetti; toss well to coat.
Add chopped tomatoes, cooked chicken, and grated Parmesan cheese and toss lightly.
Serve warm.