Italian Chicken Meatball Soup With Barley
dicentra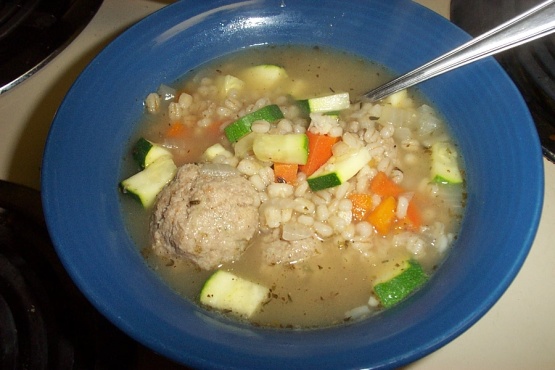 This soup bursts with flavor. Now that I've moved back to "The Great Northwest", it has become a favorite on rainy, gray days. Serve with crusty bread and a salad of spinach and tomatoes topped with toasted pine nuts.

I made this last night. Really yummy and filling. I only used 1/2 an onion and I added diced zucchini. I used turkey for the meatballs, but left out the cheese. I think next time I'll use less breadcrumbs to try and get a firmer meatball. Also, I didn't put all of the meatballs in the soup. It seemed like a lot. (Now I have leftover meatballs for pasta!) I think I would have been happier with the final result if I had used less red pepper flakes and garlic. The soup did have a nice kick to it. I put the leftovers in the freezer. I'm betting this freezes well. Thanks for sharing! :) 8/20/06 ETA: Freezes well. :)
Mix seasonings and dried herbs in a small bowl.
Rinse barley and drain it.
Combine barley in a large soup pot with the 9 cups of chicken broth, about HALF the herb mixture, and 3 of the cloves of crushed garlic.
Bring to a simmer and cook covered for 30 minutes.
Meanwhile, mix together the meatball ingredients and form into balls the size of walnuts in the shell (you will get 20 or more).
When the barley/broth mixture has simmered for 30 minutes, add in the remaining 3 crushed garlic cloves, the rest of the seasonings and dried herb mixture, the meatballs, and the carrots and onion.
Bring soup back to a low simmer, and cook for another 30 minutes, stirring gently every 10 or 15 minutes so meatballs won't stick to the bottom or break apart.
Serve soup topped with chopped parsley and a generous handful of grated Parmesan cheese.