Italian Chicken (Crock Pot/ Slow Cooker)
Annacia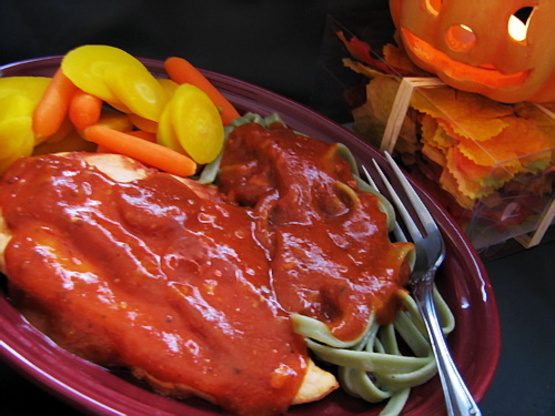 A family favorite. Adatped from Simple & Delicious.

I have been making this dish for about a year now. At first I followed the recipe to the letter but I found the cornstarch in the sauce was a little over-kill (unless you really like a thick sauce) and I found it needed a little kick for the adults in the household. The version I most commonly make, and love, is to use fresh onion (1/4 to 1/2) chopped instead of flakes, fresh/minced garlic (3-4 cloves) instead of powder, I double the tomatoes and typically use petite diced when I am out of crushed and I have used pureed in a pinch. I also substitute a heavy hand of fresh chopped oregano, parsely and basil for italian seasoning (bare in mind I usually double the tomatoes). I haven't used the corn starch since the first time I made it - I find the sauce is a typical consistency and sops up nicely with garlic bread without the addition. Oh, and I love to add about 10 oz of whole baby bella mushrooms (halved if they are not so "baby") and some cracked black pepper to taste. I have also diced up zuccini and carrots and added that at the beginning to give the sauce a primavera taste.

Thank you for posting, I know I have tweaked this recipe, but I use it almost every 2 weeks and it is a family pleaser. Much appreciated!
Place chicken in crock pot.
Combine the tomatoes, 3/4 cup water, onion, bouillon and seasonings and pour over chicken.
Cook on low for 3-4 hours.
Pour cooking juices from crock pot into a saucepan.
Combine cornstarch and 3 tablespoons of water until smooth.
Stir into cooking juices and bring to a boil.
Cook and stir until thickened.
Serve with chicken and rice.