Italian Chicken Cheese Rollups (Light)
Pixie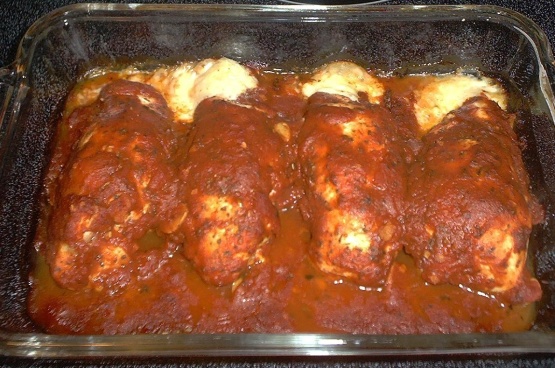 One of my easiest and favourite way to eat chicken. It takes only a few minutes to prepare and then all you have to do is enjoy!

This was ok, I wasn't sure about the flavour... seemed a little bland to me. It was alright but nothing to rave about... don't think I would make this again....
Preheat oven to 350°F.
Place each chicken breast between 2 pieces of heavy-duty plastic wrap, pound to 1/4 inch thickness using a meat mallet or rolling pin.
Combine basil, salt and pepper; sprinkle half of mixture evely over both sides of chicken.
Place 1 string cheese stick across the center of each flattened chicken breast. Roll up chicken jelly roll fashion, starting with short end. Place chicken roll-up, seam side down, in an 11 x 7 inch baking dish. Sprinkle with remaining half of spice mixture, and coat with cooking spray. Cover and refrigerate up to 8 hours.
Pour tomato sauce over chicken. Bake uncovered, at 350F for 35 minutes or until chicken is done and tomato sauce heated.