Italian Chicken and Vegetable Soup
Lainey39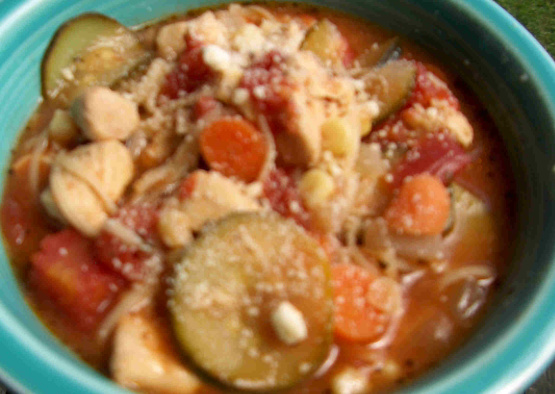 The following recipe is courtsey of Paula Deen. Easy and absolutely delicious. I have also added ditali pasta to this recipe for a nice addition. Other small shaped pasta would work equally as well.

We loved this soup! I added some minced garlic to the olive oil. Loved the fresh parmesan on top!
In a large Dutch oven, heat olive oil over medium-high heat. Add chicken, and cook for 10 minutes, stirring frequently.
Add onion and carrot, and cook for 5 minutes. Stir in zucchini, diced tomatoes, and chicken broth.
Bring to a boil; reduce heat, and simmer, uncovered, for 30 minutes. Top each serving with grated Parmesan, if desired.