Anonymous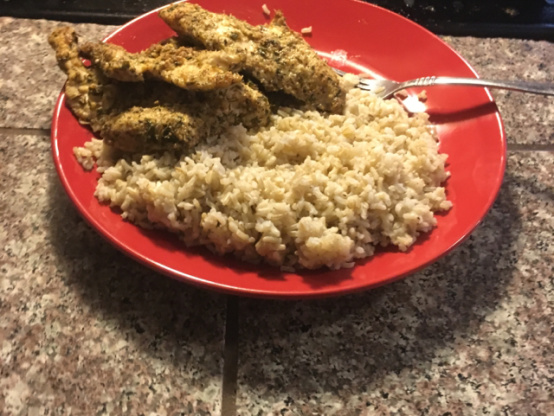 This is a quick and easy weekday supper for the busy cook.

Nicer, healthier and tastier version of breaded chicken (no carbs, hooray!) Rather than margarine I brushed olive oil on the breasts and used fresh parsley, minced garlic and dried orgegano. I found two tablespoons of oregano to be a bit overpowering although it could very well be the dried Greek variety I buy. It is sold in large branches and the taste and smell are different from the North American version (I'm not going to fault you for my ingredients)! The chicken breasts I used were huge and I was concerned about the cooking time although the high heat method worked very well; the breasts were very tender. Next time I may try marinating in garlic, lemon juice/zest and olive oil before pressing into the mixture just to see what transpires! This will become a mainstay in our house! Thanks kindly for your recipe! P.S. Try tossing leftover chicken in a salad with tomatoes, red onion, kalamata olives, feta and lemon vinaigrette; my lovely lunch today!
In shallow pie plate, combine first 5 ingredients.
Dip chicken in melted margarine, then in the seasoning mix in the pie plate.
Place in a greased baking dish.
Drizzle remaining melted margarine& seasoning mix over chicken.
Bake at 425 degrees for 15- 20 minutes or until done.