Mulligan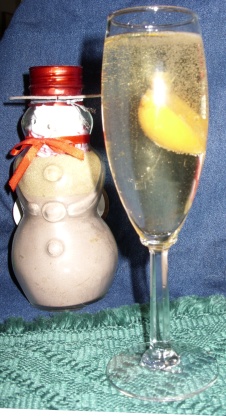 This has been a Christmas tree-trimming tradition of mine for the adults only! From the magazine Chocolatier, Vol. 1, #4.
1

(17 ounce) canwhole peeled apricots

3

tablespoons Amaretto

1

(25 1/2 ounce) bottle asti spumante sparkling wine, chilled
Drain the apricots and remove the pits if necessary; place in a small bowl.
Pour the amaretto and brandy over the fruit and refrigerate for several hours to marinate.
When ready to serve, place a whole apricot along with a teaspoon of the marinating liquid in each of eight chilled flute Champagne glasses.
Pour 3 ounces of Asti spumante into each glass, adding the wine in two stages if necessary to avoid foaming over.
Serve with slices of pannetone, pound cake, or chocolate leaf cookies.