Boomette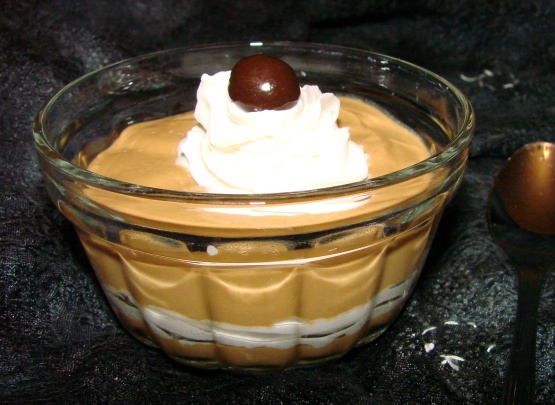 A rich, thick dessert. It is served elegantly in a demitasse cup. From "The Best of Ethnic Home Cooking" my Mary Poulos Wilde. The passive (cooking) time is chilling time, so start at least 6 hours before serving.
I did half the recipe. I used splenda instead of sugar. And I did like Maito and used half of the sour cream (fat free). I was lazy and didn't do the whipped cream, but used store-bought whipped cream. Thanks Susiecat Too. Made for Top Favorites of 2008 tag games
Combine the instant coffee and sugar in a small mixing bowl. Add the boiling water and stir to dissolve. Set aside to cool.
With a blender or food processor, whip the ricotta and sour cream together until smooth. Add the cooled coffee mixture, rum (if using) and blend well. Cover and refrigerate at least 4 hours.
Make the whipped cream: pour the heavy cream into a chilled mixing bowl and beat at medium speed until the mixture begins to thicken. Add the sugar and almond extract and continue to whip until the cream is stiff. Refrigerate until serving.
To serve, melt the chocolate bits and spoon a bit of the melted chocolate into the bottom of a demitasse cup.
Fill about 3/4 full with the ricotta mixture. Add another bit of melted chocolate, and a dollop of whipped cream.
Garnish with chocolate curls or shavings and almonds.
Serve immediately.