Italian Cabbage Casserole
Boomette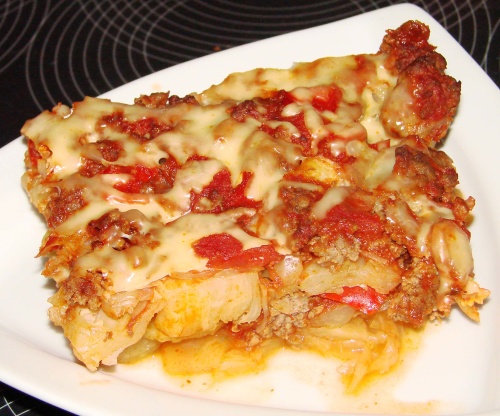 A recipe from the cookbook "The Comfort Food Diet" of Taste of Home. I made it in the weekend and me and DH loved it. There is no rice in it.

I didn't use the green pepper and we thought the sauce was very tasty. I did use two cups of mozzarella and cheddar mix for the cheese. 1/2 cup of cheese wouldn't have been enough for us. Once cut the casserole was really watery. We enjoyed it though. The longer it sat, the better it was.
Place cabbage in a steamer basket; place in a large saucepan over 1 inches of water. Bring to a boil; cover and steam for 6-8 minutes or until tender. Drain and set aside.
In a large nonstick skillet over medium heat, cook and stir the beef, green pepper and onion until meat is no longer pink; drain. Stir in the tomatoes, tomato sauce, tomato paste and seasonings. Bring to a boil. Reduce heat; simmer, uncovered, for 10 minutes.
Place half of the cabbage in a 11-in. x 7-in. baking dish coated with cooking spray; top with half of beef mixture. Repeat layers (dish will be full). Sprinkle with cheese. Bake, uncovered, at 350 F for 15-20 minutes or until heated through.