Italian Buttercream Icing
o_lynk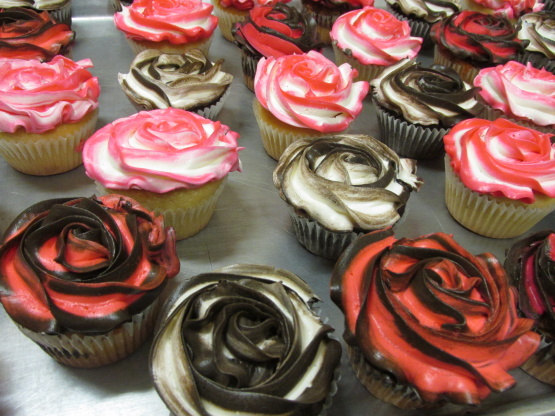 This icing is incredibly smooth and creamy, and not overly sweet. (It still has MANY calories though!!) I haven't found another one like it. It is not difficult to make, but does require some time. I use this icing for wedding cakes or other special occasions mostly, because it does require more time than other buttercream icings, but there really is no comparison. Thanks to my mother-in-law for this recipe as she had found it in a magazine years ago.

Made a wedding cake for a friend and used this recipe--came out perfectly, whether I used all butter (trial run) or butter and shortening combo (for the wedding--such a warm day)! I used a candy thermometer and added the syrup to the whites when it reached 238F. However, this recipe does threaten to overflow my KitchenAid stand mixer's bowl and it takes way longer than 10 minutes for it to cool down.
Separate egg whites from yolks. Whip egg whites until stiff.
Bring sugar and water to a boil. Occasionally use a pastry brush and cold water to brush down any crystals that form on the side of the pan. Boil for seven minutes over medium heat.
Pour sugar mixture slowly into egg whites. Beat until bowl is cool to the touch - ten minutes or so. (You might want to place this bowl in another bowl with a little cold water in it to speed the cooling process a bit.).
Cut butter into 1" pieces, and add them slowly to the sugar/eggwhite mixture. The mixture gets more "soupy" as you add the butter, but this is OK.
Add vanilla when butter is mixed in well.
Beat until light and fluffy. It may look a little curdled, but keep beating, and it will become smooth.
This icing can be refrigerated for weeks, or even frozen for months. To get it back to be nice and creamy after being in the fridge or freezer, just mix it again, and it will return to its' creamy texture.