Italian Butter Cookies 1952
Beth L.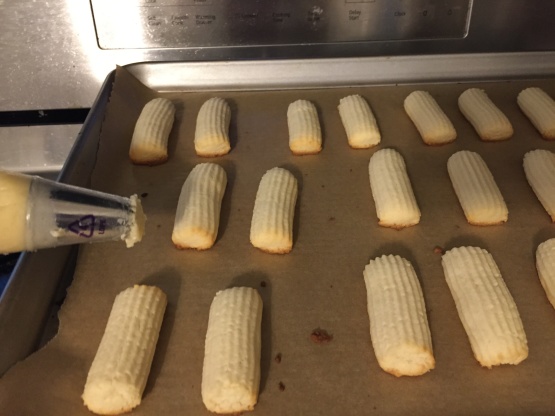 Add a cherry to the tops before baking, or afterwards, pair them up with raspberry jam, and dip ends into melted chocolate. A bakery special.

Ok attempeted 3 times before I got it right. First attemp didnt cream properly. 2nd attempt, deffinintly creamed properly, but relized that this recipe has to be off. I made it with everything, except 2 1/2 cups of flour, I made it with 1 1/2 cups and it came of perfect. The first and 2nd batch were almost impossible to pipe. And after baking they were soft and alright, but just alright. After they cooled, hard as a rock, almost broke my teeth. But the final batch with 1 1/2 cups of flour absolutely perfect. So this recipe has to be off. So who ever tries it next, try with 1 1/2 to 1 1/4 cups of flour.... Good Luck
Preheat the oven to 350 degrees.
In a large mixer bowl, cream lightly the butter and sugar until really fluffy and pale, about three minutes.
Add the egg and vanilla and mix until combined.
At low speed add the combined dry ingredients and mix until just blended.
Do not overmix.
Place into a pastry bag fitted with a star tip, pipe onto prepared parchment lined cookie sheets, spacing two inches apart.
If dough is too thick to pipe, pour in a few tablespoons of milk.
If you make wreath or stars, you can add a cherry as decoration now before baking.
Or you could just roll into small bals and flatten with a fork if desired.
Bake for 10 to 14 minutes just until the bottoms and edges begin to turn golden brown.
Remove from pans by sliding thw whole piece of parchment onto a large wire rack, and cool completely.
Dip fingers or one side of each into melted chocolate and sprinkles if desired.
Sandwich with raspberry jam also if desired, dip in melted white chocolate and crushed almonds.
Leave plain also.
Store in an airtight container.