Italian Breaded Chicken With Honey Mustard Sauce
Prep 10 mins
Cook 25 mins

This is my husband's favorite dish. I kinda just made it up one day i feeling experimental and it's been a staple in our house ever since. For just a nice weekday meal or for a dinner party, it's sure to impress! The best part, it's supper easy to make! Even the most novice cook can do this.
Directions
Preheat oven for 425°F.
Turn a large skillet onto med-high heat
Coat skillet with the olive oil.
In one bowl, add eggs and beat with a fork.
In the other bowl add bread crumbs.
Coat chicken in the egg mixture then dip in the bread crumbs until coated.
Then dip it again in the egg mixture then bread crumbs to get a nice breading around the chicken.
Place chicken in the skillet.
Let the chicken lay on both sides til their a nice crisp golden brown, about 2-3 minutes.
Lay chicken on a greased backing sheet and brush on honey mustard.
Cook for about 25 minute or unit chicken is done.
Add mozzarella and return to oven for about 2 minutes for the cheese to melt.
Most Helpful
Loved it! My fiance raved about it! Will make again!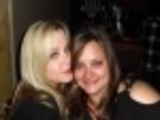 Super simple, yet delicious. The honey mustard makes this chicken really special. For PAC.

* * * MADE FOR FALL 2008 PAC * * * This was very good. I used turkey tenderloin instead of chicken breasts, because 1 turkey tenderloin(weighing .49) was $1.49 at the store and a 4 pack of boneless, skinless chicken breasts was $7.53. Plus, I was cooking for myself tonight. But there was still enough left for DH when he got home from work and he liked it too. Plus, like the true airhead that I can be sometimes, I forgot the mozzarella cheese on top! I was just so hungry when it came time to eat, that I just dove right in. I made this with recipe #296042, and it was great. I dipped the cooked meat in the honey mustard and that was good. The cooking times are perfect. The meat was moist and tasty. I think the next time I make it, I might put a little marinara sauce on top then put the cheese on, kinda like a parm. Thanks for posting a great recipe.