Italian Breaded Chicken Breasts
gailanng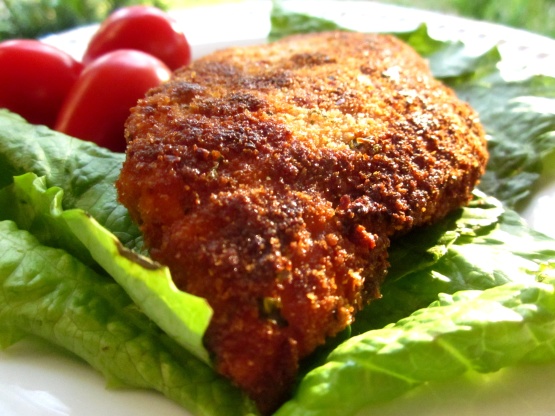 A basic lightly breaded seasoned and sautéed chicken breast that can be served as is with rice and a vegetable, or topped with tomato sauce and mozzarella and briefly baked for chicken parmesan, or put in Italian bread, with or without cheese, with tomato sauce, pesto or mayo, and enjoyed as a sandwich.
Clean breasts of visible fat and tendons. Pound each with the flat side of a mallet until evenly 1/4 inch thick. (You may want to cut large cutlets in half).
Mix breadcrumbs in flat bowl with cheese and parsley.
Mix flour in another flat bowl with salt, pepper and garlic powder.
Beat egg and water in another flat bowl.
Dredge each piece in flour, then egg, then dip in egg and coat with breadcrumbs. Set on a piece of wax paper for 5 minutes to let breading adhere.
Heat olive oil in pan over medium heat. Add chicken cutlets and cook about 4 minute per side until nicely browned.