Italian Bread II ( Single Rising)
Laudee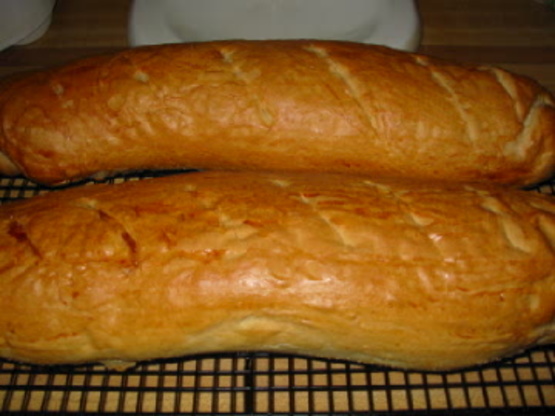 There's nothing like the smell of fresh bread coming out of the oven. This has been one of my old standbys. This recipe is a bit different that most as it uses butter in the dough.

The butter really gives the bread a nice flavor--very different. The inside was nice and chewy, the crust crisp--next time I will loosely cover the top of the bread with some foil as it bakes, as it was already dark brown after 30 minutes in the oven. It was very easy to make. Thanks for sharing this wonderful recipe!
Combine yeast, sugar and 1 c.
warm water in a large bowl.
Stir until dissolved.
Set aside in a warm place for 1/2 hr.
When mixture starts to bubble slightly, add butter, salt and remaining 3/4 warm water.
Add flour 1 c at a time, beating vigorously w/ a wooden spoon.
Continue until dough starts to pull away from the sides of the bowl.
Turn out unto a generously floured board.
(Dough will be sticky) Gently fold in remaining flour, kneading until the dough begins to become smooth and elastic.
Knead for 10 minutes.
Let sit for 5 minutes.
Divide dough in two and roll each into a rectangle 12 x 8 inches.
Roll up tightly lengthwise, pinching seams.
Butter two baking sheet and sprinkle w/ cornmeal.
Place loaves on sheets and let rise in a warm draft-free place until double (1-1 1/2 hrs) Preheat oven to 425F.
Brush loaves w/ beaten egg while.
Bake 40 minutes.