JanBen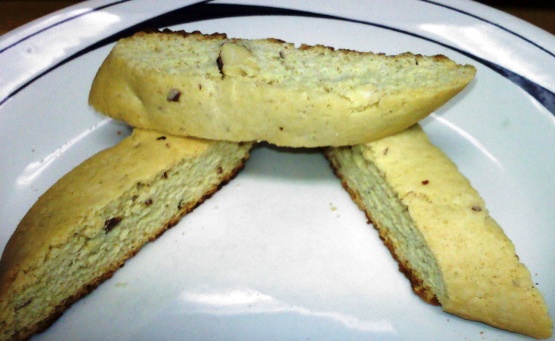 These additive Italian cookies are meant for dunking, but are good just eaten alone. The word "biscotti" refers to their preparation--they are twice baked. They are just wonderful.
2

eggs

2

egg whites

1

teaspoon almond extract
1⁄2 teaspoon anise extract (optional)

1

cup sugar

2

cups flour

1

teaspoon baking soda
1⁄4 teaspoon salt
3⁄4-1 cup whole almond
In a large mixer bowl combine the eggs, egg whites, vanilla, and anise; mix until well-combined.
Add the sugar, flour, soda, and salt; beat until a dough forms.
Add the nuts.
Turn the sticky dough onto a lightly floured board; knead several times.
Divide the dough in half.
With floured hands, form the dough into two flattish logs, about 15" long by 2" wide.
Place the logs about 3" apart on a baking sheet that has been sprayed lighted with cooking spray.
Bake at 325 degrees for 40 minutes.
Remove and cool for 10 minutes.
Reduce oven to 275 degrees.
On a cutting board, cut the logs diagonally into 3/4" thick slices.
Arrange the slices on the baking sheet and bake for 10-12 minutes; turn and bake another 10-12 minutes.
Turn heat off and leave biscotti to crisp in the oven for another 15 minutes.
Remove and cool completely.