Elaine H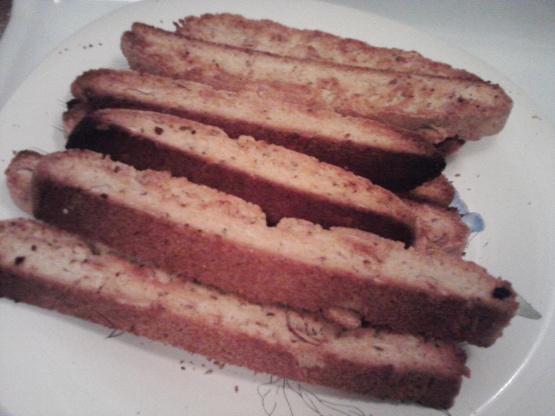 This is an adopted recipe that I have not yet tried. Any reviews by those who try the recipe would be appreciated--thanks!
Perfetto! Perfect Italian biscotti with the distinctive anis flavor and the almonds! This biscotti is not too hard and dry, just nicely crunchy and crumbly. It also isn't very sweet, and that is fine, because it is dipped in the heavily sweetened espresso coffee, in Italy and our house hold, anyway. I have tried a few biscotti recipes now, still looking for the perfect one, and I think I have just found it now. If you want it the way they have it in Italy, this is it.
Cream butter, sugar and 1 tablespoon anise seed.
Add eggs and vanilla.
Combine flour, baking powder and 1 tablespoon Anise seed.
Add to cream mixture.
Add nuts, mix in, and form dough into 2 or 3 long thin rolls.
Place rolls on a ungreased baking pan or cookie sheet and bake cookie rolls at 350 degrees 15-20 minutes , or till light brown.
Remove from oven and cut diagonally into 1/2-3/4 inch slices.
Put back in oven and bake an additional 10-15 minutes or till Biscotti is lightly toasted.
You want the biscoti to dry slightly.
It will look somewhat like a elongated piece of french bread, except smaller.